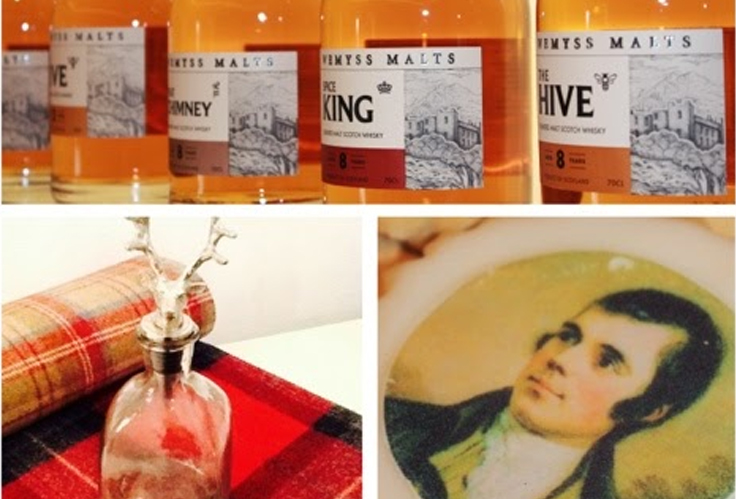 …so begins Robert Burns' poem "Address to a Haggis", which is traditionally spoken aloud with gusto at Burns Night events the length and breadth of Scotland. For those of you who don't know, Burns Night is 25th January (the date which was the bard's birthday) which falls on a Sunday this year,

sparking a whole weekend of distinctly Scottish celebrations. In fact most Scots are more likely to celebrate Burns Night than Scotland's more official annual event, St Andrew's Day. Haggis (traditionally eaten with "neeps and tatties" i.e. mashed turnip and mashed potato) and Scots whisky are the two key essentials to a Burns Supper. Formal events will add other traditional elements to that, such as having a bagpiper pipe in the entrance of the haggis, the "toast to the lassies" (by the men to the ladies) and their response to the laddies (both usually very humorous and cheeky, with the lassies getting the last laugh) plus lots of energetic ceilidh dancing. Read more about the Burns Night traditions. Less formal Burns Supper events will keep it simple. It's up to you how formal you want to be but it's really all about having a good time, usually fuelled by plenty of drinks!
Happily there are lots of great things going on for Burns Night 2015 in and around St Andrews. BID St Andrews has compiled a very helpful list of local Burns Night events and offers which I thought I'd share with you. I'm forever trying out new weird and wonderful ice cream flavours – some good, some not so much – so I'm particularly intrigued by the Haggis ice cream which is being served up at The Adamson restaurant in St Andrews this Burns weekend. Will this uniquely Scottish beast work in ice-cream form? There's really only one way to find out!
Have a great Burns Night wherever you choose to spend it!