It's been a long haul but the good news is that things are opening back up from lockdown in the East Neuk, St Andrews and beyond all the time! This is in line with the phases prescribed by the Scottish Government, which are different from those in other parts of the UK.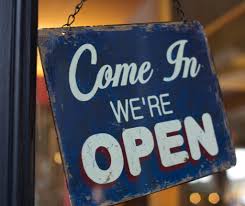 Most shops have now re-opened, with social distancing rules in place and sometimes a queue outside. Wearing a facecovering in shops became mandatory in Scotland by law from 10th July 2020.
Here is what we've found out about other places which are open – we'll keep updating this as things change. You will usually need to leave your name and contact details when you book / enter for test and protect purposes. Please remember regular hand washing / sanitising, wearing masks as required and social distancing:
Places to Visit which are now open
Cambo Estate gardens, shop and cafe, including takeaway (no booking system).
Kellie Castle gardens (National Trust for Scotland, no booking system – donation box).
Falkland Palace gardens (National Trust for Scotland).
Craigtoun Country Park, by St Andrews (including most rides).
Cairnie Fruit Farm outdoor kids funyard (booking system) and fruit picking (booking system).
Muddy Boots outdoor kids play and outdoor cafe tables (booking system).
The St Andrews Aquarium (booking system).
The St Andrews Botanic Gardens and outdoor cafe but not the glasshouses (no booking system).
The St Andrews Museum (book online 24 hours ahead or call for a slot on the day).
The Scottish Fisheries Museum reopens 26th August. V&A Dundee reopens 27th August, including the Mary Quant exhibition (booking system). The British Golf Museum and Scottish Deer Centre are TBC.
Eating  – places which are now open
Places which are now open for outdoor dining and / or takeaway locally include:
The Cheesy Toast Shack – Kingsbarns Beach (cash only) and East Sands, St Andrews.
The Lobster Shack, Crail Harbour – takeaway / sit at picnic table in Crail Harbour to eat.
The Crail Harbour Gallery – outdoor and indoor seating, takeaway and shop.
Various chippies in Crail, Anstuther and Pittenweem, the Tailend and Cromars in St Andrews.
East Pier Smokehouse, St Monans – outdoor seating and takeaway (Wed-Sun 12-3, 5-7.30, tel 01333 405030 or 07432 279815 to book a time slot).
The Dory Bistro, Pittenweem (seafood) – indoor dining and takeaway.
The Cocoa Tree Cafe and Chocolate Shop, Pittenweem – indoor and outdoor dining and takeaway.
The Adamson and Next Door, South Street, St Andrews – indoor dining, outdoor tables and takeaway.
Little Italy, St Andrews – indoor dining and takeaway.
Jigger Inn, Old Course hotel – burgers etc – indoor and outdoor dining.
Various other places in St Andrews for takeaway e.g. Starbucks, Pret, Dominos Pizza, Jahangir Curry House, Chinese and Thai takeaways.
Many restaurants and cafes reopened around 15th July for sitting in. The Cellar in Anstruther (fine-dining) reopened 17th July. The Old Course Hotel reopened 1st August.
Drinking – places which are open
Venues for outdoor drinking locally include:
The Golf Hotel Crail – beer garden.The Ship Inn Elie – beer garden.
The Saint, St Andrews, South Street – beer garden (book ahead).
The Jigger Inn, Old Course Hotel, St Andrews – outdoor terrace beside the golf course.
The Dunvegan, North Street, St Andrews – outdoor tables.
Many pubs are now open for indoor drinking, with appropriate safety measures.
See also www.welcometofife.com/highlight/open-for-business-in-fife for more information.
If you find anything we should add to this page please let us know!
(First published 4 July, last update 17 August)
For a journey through robotics past and future don't miss the excellent "Hello Robot" exhibition in the modern architectural masterpiece that is the V&A Dundee, Scotland's design museum. It's on until Sunday 9 February 2020 (tickets £6-£12, save £1 by buying in advance online or by phone).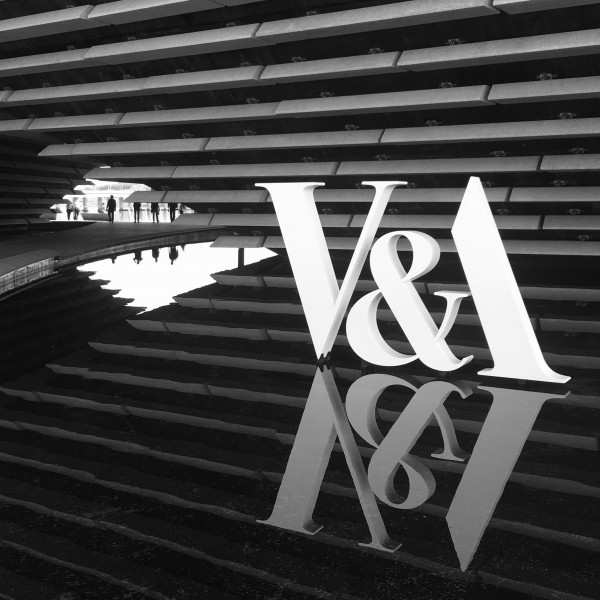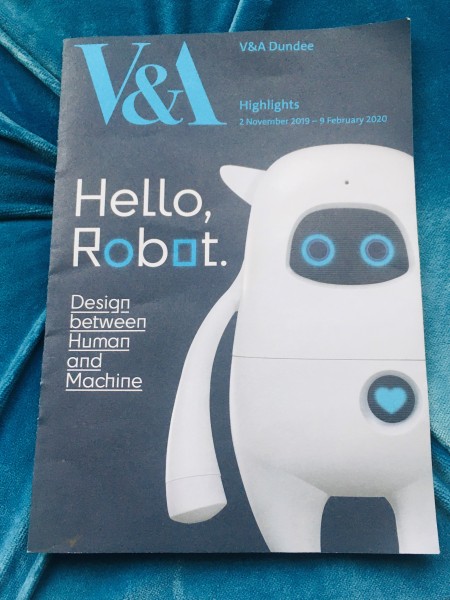 The first room in the Hello Robot exhibition showcases retro robots and if you're a Star Wars fans like me you'll be wowed by seeing the original R2-D2 (from 1977, on loan from George Lucas)! For me it was a real highlight of the exhibition.
Moving into the other rooms things get much more high tech and there's plenty here to enthral and educate visitors young and old. The exhibits cleverly explore the fascinating, complex and evolving relationship between human and machine present and future. Our little one was particularly captivated by the use of video throughout the exhibition and the chance to create your own "robots" in the separate kids workshop room afterwards.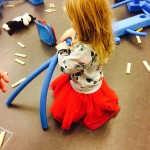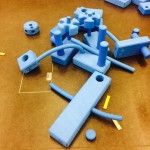 To re-charge your batteries post exhibition you can choose from the V&A Dundee's The Living Room cafe (ground floor) or Tatha Bar and Kitchen restaurant (1st floor). Both provide the perfect opportunity to marvel at the magnificence of the museum's architecture (created by renowned architect Kengo Kuma as a "living room for the city") and its riverside location. We were lucky enough to nab a window seat in the cafe for a spectacular River Tay view!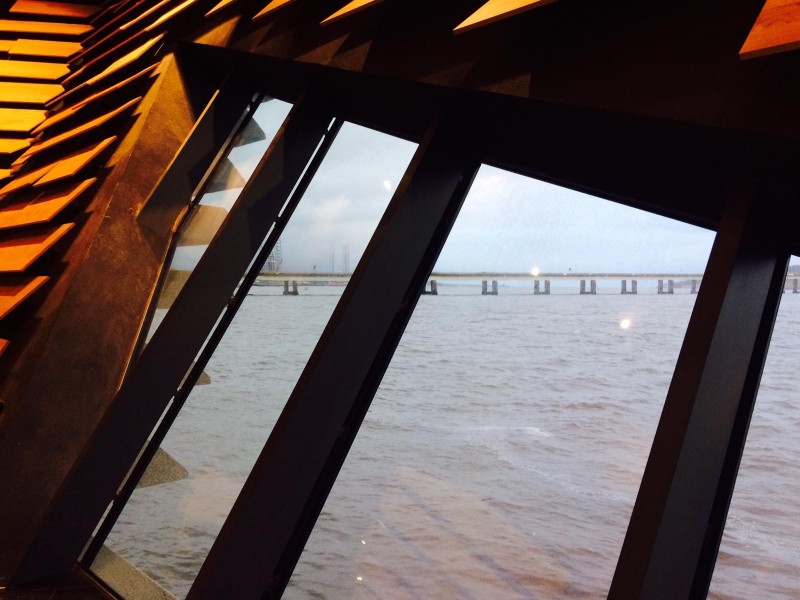 Despite the high quality of the museum's exhibits for most visitors it's the V&A Dundee building itself that impresses the most. Perched right by the river, does the museum's remarkable design remind you of waves, the hull of a ship, Scottish sea-cliffs or, as my daughter says, a pile of pancakes?! One thing's for sure, it's a spectacular sight, inside and outside, which is definitely worth a day trip from the East Neuk!
The museum shop (ground floor) also delights with its unique range of cool and unusual products celebrating national and international design.
Other V&A Dundee exhibitions I'm really looking forward to this year are "Mary Quant" from 4 April to 6 September 2020 for some 1960s fashion nostalgia and then "Night Fever: Designing Club Culture" from 31 October 2020 to 14 February 2021.
Or if the exhibitions don't push your buttons you can visit the V&A Dundee's permanent Scottish Design Galleries any time for free. There are around 300 exhibits drawn from the V&A's world-famous collection of art, design and performance as well as museums, private collections and designers across Scotland and the world. Highlights for us were building your own virtual Hunter wellies, being dazzled by a gorgeous 1935 Cartier tiara with diamond wings and stepping inside the Oak Room, a restored and reconstructed Charles Rennie Mackintosh tea-room interior from 1940s Glasgow.
For more information about V&A Dundee see: https://www.vam.ac.uk/dundee/. Tel: +44 (0)1382 411611.
You can also extend your sight-seeing trip to Dundee by popping next door to explore the RRS Discovery, the ship which Scott and Shackleton sailed to Antarctica. Another great option is to check out the nearby Dundee Science Centre, a family favourite in our house.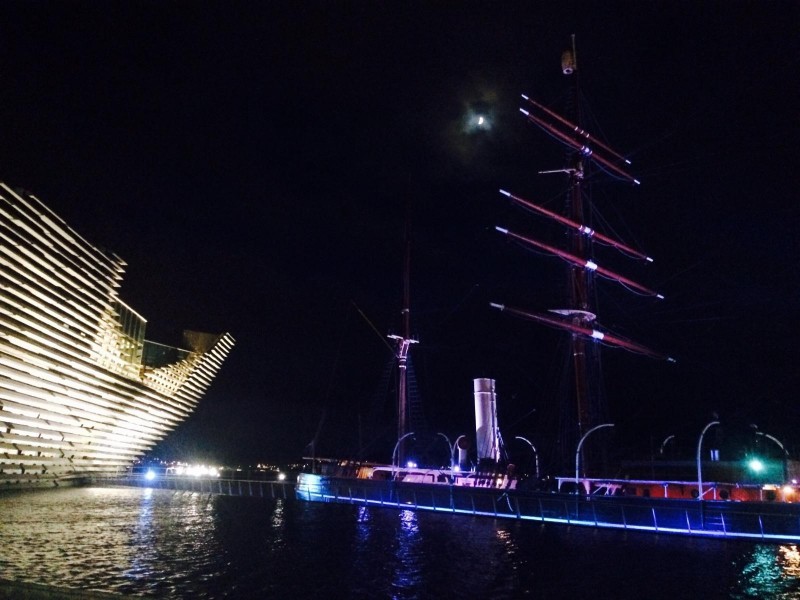 Copyright Sara @ Rose Cottage East Neuk, 2020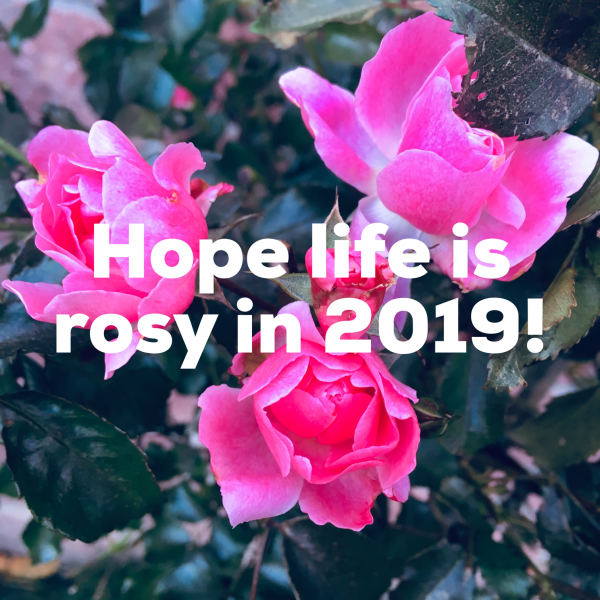 Happy New Year and hello to 2019!
We hope life is rosy for you in 2019 – happy, healthy and mindful. A relaxing Rose Cottage holiday can help with that so why not Book Now.
If your new year's resolutions for 2019 include less work and more play or just taking the time to enjoy life more then the East Neuk and St Andrews is the right place for you. See our Top 10 Things To Do, updated of course to include the incredible V&A Dundee, the most exciting new museum in Scotland. And of course, as ever, there's a packed calendar throughout the year of Local Events (more updates to this page coming soon).
Rose Cottage is much loved by our many doggie guests, especially our big garden! As many a dog owner knows, however, not everywhere is quite so dog friendly. Do not panic! The excellent Welcome to Fife information website now has a helpful round up of dog friendly places in Fife to eat and visit – I highly recommend giving it a read.
Here's a summary of the places listed which are closest to the East Neuk:
Forests:
 Tentsmuir Forest & the adjoining Kinshaldy Beach – woodland and beach walking bliss with a real wilderness feel to it and you may even see a red squirrel!
Walks:
 The amazing Fife Coastal Path of course! – see our Top Things to Do page for more details of our favourite parts
Attractions:
Hill of Tarvit (near Cupar) and Kellie Castle and Gardens (near Anstruther) – both allow dogs to trek in the surrounding woodlands
Craigtoun Park (near St Andrews) – completely dog friendly country park, except inside the café but there are picnic benches outside to use instead
Cafes:
As the Welcome to Fife blog says, you'd be surprised how many cafes and restaurants allow dogs in. Those listed are by no means all of them. They include:
Nosebag Café, Cambo Estate – a favourite café of ours, it's just a stone's throw from Rose Cottage
The Inn at Kingsbarns – in this lovely country pub near Rose Cottage "the snug" area and bar are dog friendly, indeed the owners have a lovely dog who can usually be found lounging about
Byre Theatre, St Andrews – café/bar area is dog friendly
Cocoa Tree, Pittenweem – enjoy their legendary hot chocolate with your dog in the pleasant courtyard area
Larachmor Tavern, Pittenweem – friendly pub on the shore in a beautiful village
Coast Coffee, Anstruther – we love their coffees, toasties and harbour-side location
The Ship Inn, Elie – enjoy a drink or meal with your dog in the bar area of this beach-side bar extraordinaire in upmarket Elie
Pillars of Hercules, Falkland – dine with your dog in the outdoor decking area
Two other local eateries not listed in the Welcome to Fife round-up but that we know welcome dogs are:
 The East Neuk Hotel, Crail – dogs are allowed in the bar, food is served there and you may catch some live music too
The Cottage Kitchen, 5 Logies Lane, St Andrews – advertises itself as dog friendly with dogs allowed in its courtyard garden (a real suntrap in the Summer) and water bowl set out
For lots more places to enjoy on your holiday with your pooch see the Visit St Andrews website, which praises how dog friendly the area is. For an even more up-to-the-minute list, including bars, restaurants, shops and more see the Dog Friendly St Andrews Facebook page.
If you have any more dog friendly places to add to the list I would love to hear them so please get in touch!
Hoping you enjoy happy holidays with your four-legged friend in the East Neuk and St Andrews!

Just why are carved pumpkins associated with Hallowe'en (or "Spooky Night" as my daughter calls it) ? There are various theories about the original purpose of the "jack-o'-lantern" in Celtic culture in Ireland and Scotland. One use was carving faces into pumpkins or turnips and putting a candle inside to ward off evil spirits and putting them on a windowsill to keep harmful spirits out of the home. A town in New Hampshire, USA has the world record for having the most jack-o'-lanterns carved and lit in the same place – over 30,000! Also did you know that a pumpkin is actually a fruit not a vegetable?
There's one place near Rose Cottage that goes all out for pumpkins and Hallowe'en. Where am I talking about? It's Cairnie Fruit Farm, near Cupar.
Cairnie has long been a favourite for a family day out strawberry, raspberry and even sunflower picking, cafe, enormous outdoor kids play area and mega maze (a huge field of maize which this year is crafted into a Star Wars themed maze). All Summer long it brings a smile to many a face.
Come Autumn time and it's all about Hallowe'en. You can take a big wheelbarrow into the fields and pick your own pumpkins from the pumpkin patch, which is loads more fun than simply buying one in a supermarket (and lots of kids enjoyed riding in the wheelbarrow on the way!).
The farm shop is packed with spooky decorations – we couldn't resist buying some to take home, including cute ghost decorations and a miniature skeleton who we're calling "Mr. Bones".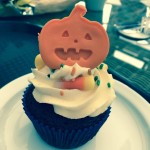 In the Cairnie cafe you can scoff delicious Hallowe'en themed cakes and biscuits – yum!
This weekend there are also special daytime and evening Hallowe'en events happening at Cairnie (see the picture for details). Are you brave enough to enter the torch light maze??
So if you haven't been to Cairnie before this is the weekend to go!
There are also lots more scary but fun Hallowe'en events happening around the East Neuk, St Andrews and North East Fife area including at Craigtoun Country Park, Kellie Castle and Hill of Tarvit. See our events page for full details.
Happy Hallowe'en!
By the East Neuk Blogger, October 2017
The East Neuk's biggest annual arts festival is in full swing until Sunday 13th August 2017! The Pittenweem Arts Festival has been running every August since 1982. The 2017 event has around 100 artists exhibiting, many in unconventional venues such as garages, sheds and living rooms and just a few in conventional galleries. This includes 3 invited artists: Graham Rich, Anna S. King and Paul Ferneaux and 1 bursary award winner, Nicola Wiltshire.
Highlights
I had a very jam-packed but highly enjoyable afternoon at the festival earlier in the week. As ever the star of the show is Pittenweem itself, looking picture-postcard fishing village perfect in the Summer sunshine, enhanced by the buzz of all the visitors enjoying the wonderful art or taking a break to enjoy a relaxed coffee or ice cream outdoors and children and doggies playing happily on the beach.
For me the festival is at its best when there are outdoor sculptures as well as the indoor venues and this year did not disappoint with Kev Paxton Blacksmiths' adorable metal Highland coos (cows) and majestic stag dotted around the village. They are very much the results of a collaborative approach and you can even be part of building the next one down by the harbour!
Another artist I loved discovering was Ian Ledward and his innovative and highly successful approach of abstracting and painting on photos. Also Keny Drew (aka East Neuk Glass) is a true original – and I would highly recommend his evening classes too. We have one of his striking photo-on-glass pieces in the kitchen in Rose Cottage. I also took home a business card for Joe Murphy, who does commissions as I was struck by his beautiful portraits of children and pets.
If you find something you like, the Pittenweem Arts Festival is a very affordable place to buy art. What did I bring home? Cards from Michelle Hewitt, a local artist who does wonderful wildlife portraits and from Pauline Austin's series of colourful forest paintings were both too pretty to resist. My walls were needing some decoration and I could not resist buying a limited edition etching print from Pittenweem-based Kirstie Behrens and a beautifully vibrant oil painting by Ann Watson, who lives in nearby St Monans. Both are beautiful landscapes of familiar East Neuk scenes, something I am a sucker for! I even purchased a lovely colourful puffin print for a bargain £5 at an anonymous mini stall down at the shore! It was just at a small table with a few prints and an honesty box. I think this artist should not be so shy next year! The one that got away was an original mixed media piece of an elegant swan from award-winning Paul Barlett, a festival regular. I am a huge fan and have one of his prints from a previous festival but sadly I'd already blown my budget.
Event info
The event itself is free with a suggested donation of £2 for the car park (a large field). Event brochures cost £3 and include a full map of all the venues.
Enjoy!
Sara Scott, 2017
Rose Cottage is proving to be a haven of creativity this season! Recent guest, children's author and illustrator Kathryn Queen visited the East Neuk from another lovely part of the UK, the Lake District, with her husband and doggy. The three of them found the relaxing holiday they were looking for with lots of coastal walks, dolphin spotting, delicious food from local farm shops and chilling out in the Rose Cottage garden room. Kathryn described the cottage as "just perfect" and "the best cottage we have ever had the pleasure to holiday in and we have been in some top places"! Before she went home I took the opportunity to purchase a couple of her children's stories to add to the growing Rose Cottage kids book collection and she very kindly gave me two more books as a present for our daughter, Rosie. Thank you Kathryn!
Talented Kathryn writes and illustrates her charming children's books, inspired by the real-life adventures of Meg the Labrador in England and Australia. There are now four books in the popular series, including my favourite titles "Puppy Love at First Sight" and "Growing up in Cosy Corner" with a fifth one coming very soon.
Kathryn's website explains who Meg was and how she inspired her to write: "Meg was our first Labrador. She was a happy-go-lucky, bouncy, tail-wagging, loyal friend. From the day she was born she was everyone's sweetheart and through her eyes and actions we all knew what she was thinking and trying to say to us.
We all said 'the only thing Meg can't do is talk.'
After sharing Meg's life for 14 years her memory has inspired me to write a series of books about her life from puppyhood until she was an 'old lady.' My books have given Meg a chance to speak and tell us her own special story from a dog's eye view.
They are written as interesting true stories for children, rather than a formal training guide (with a little bit of imagination thrown in) to help children understand a dog's behaviour as they both grow up together." 
All the Meg books can be purchased from her website Megland Books. Check them out, especially if your little one is a dog lover who needs a little training on how to look after his or her four-legged friend!
It's now official: St Andrews is as popular a hang out for animals as it is for humans!
It used to be that St Andrews had a celebrity street cat, Hamish McHamish. He was king, strutting his furry stuff around the streets, with his own Facebook page, then book and even statue. Sadly Hamish is now in cat heaven and is missed by St Andrews visitors and locals alike. No feline could ever hope to replace his presence and elusive charm.
But wait a minute, is there a new celebrity animal couple in town: Mr and Mrs McDuck? Two mallard ducks have taken a shine to Market Street and here they are having a drink at The Keys pub on a Saturday night:
They also love to hang out outside The Subway and occasionally down the lane by Maisha Indian restaurant. Where are they from? Are they moving in or just passing through on their way to a nearby pond or loch? Did their romance blossom in St Andrews a la Wills and Kate? It is difficult to interpret from their lively quacking but they are a pretty cool couple so I hope they are here to stay!
Have you met Mr and Mrs McDuck yet?!
Happy New Year everyone! Wishing you all a happy, healthy, successful and fun-filled 2017.
I'm making a resolution to make the most of my holidays in 2017 by planning them in advance, leaving day to day stresses behind and enjoying them to the max. I'm thinking endless beaches, beautiful scenery, lots of fresh air and amazing food. I know I am always happier when I have great holidays booked and can look forward to them so that's on my to do list. If, like me,  you want to have great holidays this year but haven't booked them yet then there is still time. We still have some 2017 availability in our lovely holiday cottage, though not much so do get in touch quickly if you want to secure a wonderfully relaxing short break or longer holiday in the sea air here in Scotland's East Neuk of Fife and St Andrews this year.
Coming soon: watch this space for an updated local events list for 2017 and news about what exciting new things 2017 will bring for visitors and locals in the East Neuk and St Andrews.
Best wishes
Sara