Just why are carved pumpkins associated with Hallowe'en (or "Spooky Night" as my daughter calls it) ? There are various theories about the original purpose of the "jack-o'-lantern" in Celtic culture in Ireland and Scotland. One use was carving faces into pumpkins or turnips and putting a candle inside to ward off evil spirits and putting them on a windowsill to keep harmful spirits out of the home. A town in New Hampshire, USA has the world record for having the most jack-o'-lanterns carved and lit in the same place – over 30,000! Also did you know that a pumpkin is actually a fruit not a vegetable?
There's one place near Rose Cottage that goes all out for pumpkins and Hallowe'en. Where am I talking about? It's Cairnie Fruit Farm, near Cupar.
Cairnie has long been a favourite for a family day out strawberry, raspberry and even sunflower picking, cafe, enormous outdoor kids play area and mega maze (a huge field of maize which this year is crafted into a Star Wars themed maze). All Summer long it brings a smile to many a face.
Come Autumn time and it's all about Hallowe'en. You can take a big wheelbarrow into the fields and pick your own pumpkins from the pumpkin patch, which is loads more fun than simply buying one in a supermarket (and lots of kids enjoyed riding in the wheelbarrow on the way!).
The farm shop is packed with spooky decorations – we couldn't resist buying some to take home, including cute ghost decorations and a miniature skeleton who we're calling "Mr. Bones".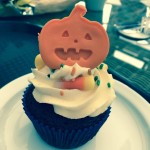 In the Cairnie cafe you can scoff delicious Hallowe'en themed cakes and biscuits – yum!
This weekend there are also special daytime and evening Hallowe'en events happening at Cairnie (see the picture for details). Are you brave enough to enter the torch light maze??
So if you haven't been to Cairnie before this is the weekend to go!
There are also lots more scary but fun Hallowe'en events happening around the East Neuk, St Andrews and North East Fife area including at Craigtoun Country Park, Kellie Castle and Hill of Tarvit. See our events page for full details.
Happy Hallowe'en!
By the East Neuk Blogger, October 2017