For a journey through robotics past and future don't miss the excellent "Hello Robot" exhibition in the modern architectural masterpiece that is the V&A Dundee, Scotland's design museum. It's on until Sunday 9 February 2020 (tickets £6-£12, save £1 by buying in advance online or by phone).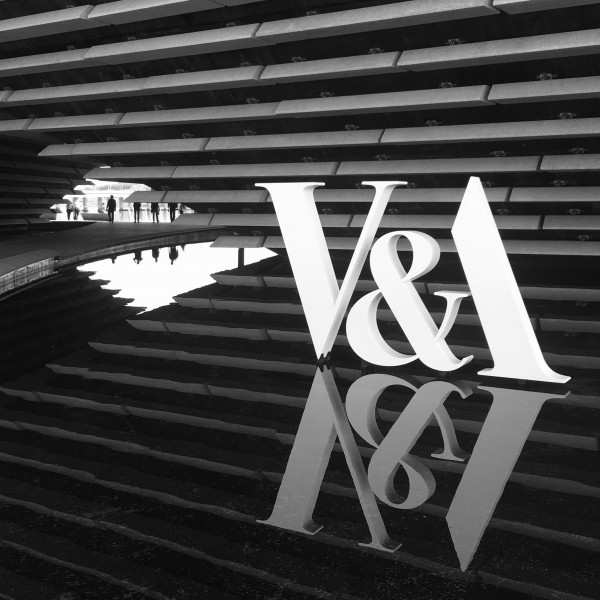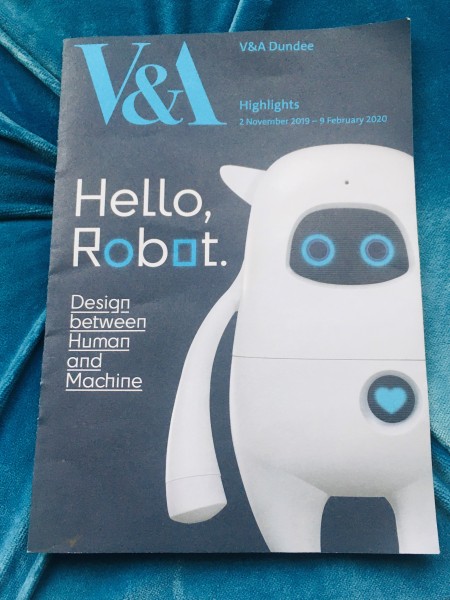 The first room in the Hello Robot exhibition showcases retro robots and if you're a Star Wars fans like me you'll be wowed by seeing the original R2-D2 (from 1977, on loan from George Lucas)! For me it was a real highlight of the exhibition.
Moving into the other rooms things get much more high tech and there's plenty here to enthral and educate visitors young and old. The exhibits cleverly explore the fascinating, complex and evolving relationship between human and machine present and future. Our little one was particularly captivated by the use of video throughout the exhibition and the chance to create your own "robots" in the separate kids workshop room afterwards.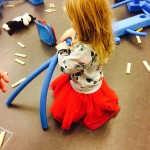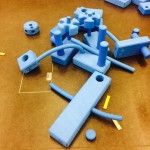 To re-charge your batteries post exhibition you can choose from the V&A Dundee's The Living Room cafe (ground floor) or Tatha Bar and Kitchen restaurant (1st floor). Both provide the perfect opportunity to marvel at the magnificence of the museum's architecture (created by renowned architect Kengo Kuma as a "living room for the city") and its riverside location. We were lucky enough to nab a window seat in the cafe for a spectacular River Tay view!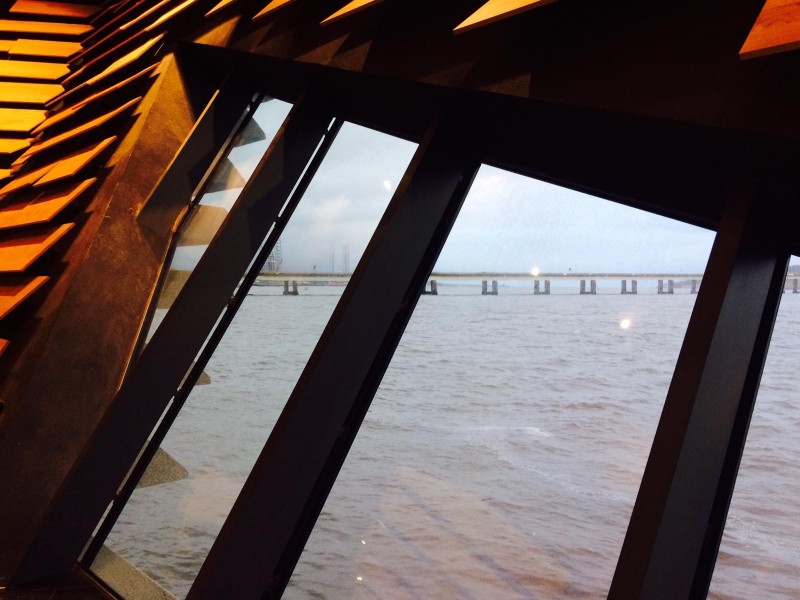 Despite the high quality of the museum's exhibits for most visitors it's the V&A Dundee building itself that impresses the most. Perched right by the river, does the museum's remarkable design remind you of waves, the hull of a ship, Scottish sea-cliffs or, as my daughter says, a pile of pancakes?! One thing's for sure, it's a spectacular sight, inside and outside, which is definitely worth a day trip from the East Neuk!
The museum shop (ground floor) also delights with its unique range of cool and unusual products celebrating national and international design.
Other V&A Dundee exhibitions I'm really looking forward to this year are "Mary Quant" from 4 April to 6 September 2020 for some 1960s fashion nostalgia and then "Night Fever: Designing Club Culture" from 31 October 2020 to 14 February 2021.
Or if the exhibitions don't push your buttons you can visit the V&A Dundee's permanent Scottish Design Galleries any time for free. There are around 300 exhibits drawn from the V&A's world-famous collection of art, design and performance as well as museums, private collections and designers across Scotland and the world. Highlights for us were building your own virtual Hunter wellies, being dazzled by a gorgeous 1935 Cartier tiara with diamond wings and stepping inside the Oak Room, a restored and reconstructed Charles Rennie Mackintosh tea-room interior from 1940s Glasgow.
For more information about V&A Dundee see: https://www.vam.ac.uk/dundee/. Tel: +44 (0)1382 411611.
You can also extend your sight-seeing trip to Dundee by popping next door to explore the RRS Discovery, the ship which Scott and Shackleton sailed to Antarctica. Another great option is to check out the nearby Dundee Science Centre, a family favourite in our house.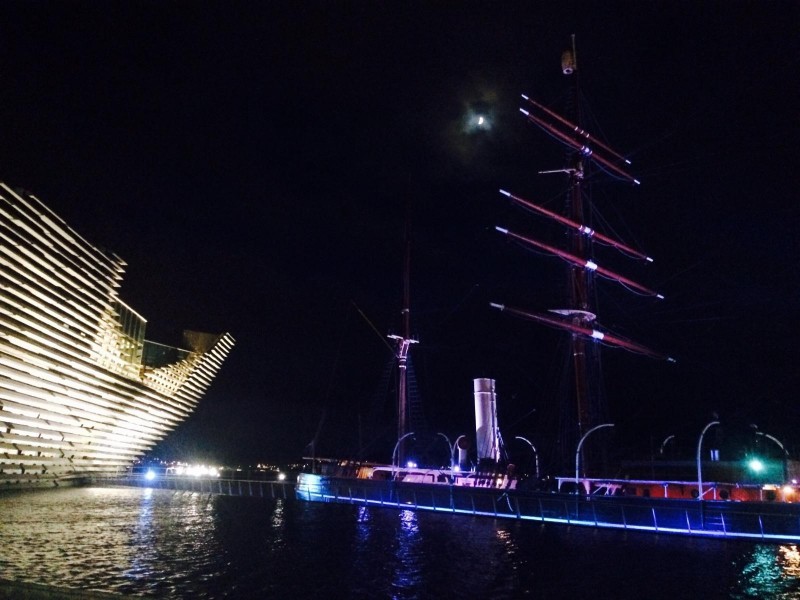 Copyright Sara @ Rose Cottage East Neuk, 2020
Rose Cottage is proving to be a haven of creativity this season! Recent guest, children's author and illustrator Kathryn Queen visited the East Neuk from another lovely part of the UK, the Lake District, with her husband and doggy. The three of them found the relaxing holiday they were looking for with lots of coastal walks, dolphin spotting, delicious food from local farm shops and chilling out in the Rose Cottage garden room. Kathryn described the cottage as "just perfect" and "the best cottage we have ever had the pleasure to holiday in and we have been in some top places"! Before she went home I took the opportunity to purchase a couple of her children's stories to add to the growing Rose Cottage kids book collection and she very kindly gave me two more books as a present for our daughter, Rosie. Thank you Kathryn!
Talented Kathryn writes and illustrates her charming children's books, inspired by the real-life adventures of Meg the Labrador in England and Australia. There are now four books in the popular series, including my favourite titles "Puppy Love at First Sight" and "Growing up in Cosy Corner" with a fifth one coming very soon.
Kathryn's website explains who Meg was and how she inspired her to write: "Meg was our first Labrador. She was a happy-go-lucky, bouncy, tail-wagging, loyal friend. From the day she was born she was everyone's sweetheart and through her eyes and actions we all knew what she was thinking and trying to say to us.
We all said 'the only thing Meg can't do is talk.'
After sharing Meg's life for 14 years her memory has inspired me to write a series of books about her life from puppyhood until she was an 'old lady.' My books have given Meg a chance to speak and tell us her own special story from a dog's eye view.
They are written as interesting true stories for children, rather than a formal training guide (with a little bit of imagination thrown in) to help children understand a dog's behaviour as they both grow up together." 
All the Meg books can be purchased from her website Megland Books. Check them out, especially if your little one is a dog lover who needs a little training on how to look after his or her four-legged friend!