Just why are carved pumpkins associated with Hallowe'en (or "Spooky Night" as my daughter calls it) ? There are various theories about the original purpose of the "jack-o'-lantern" in Celtic culture in Ireland and Scotland. One use was carving faces into pumpkins or turnips and putting a candle inside to ward off evil spirits and putting them on a windowsill to keep harmful spirits out of the home. A town in New Hampshire, USA has the world record for having the most jack-o'-lanterns carved and lit in the same place – over 30,000! Also did you know that a pumpkin is actually a fruit not a vegetable?
There's one place near Rose Cottage that goes all out for pumpkins and Hallowe'en. Where am I talking about? It's Cairnie Fruit Farm, near Cupar.
Cairnie has long been a favourite for a family day out strawberry, raspberry and even sunflower picking, cafe, enormous outdoor kids play area and mega maze (a huge field of maize which this year is crafted into a Star Wars themed maze). All Summer long it brings a smile to many a face.
Come Autumn time and it's all about Hallowe'en. You can take a big wheelbarrow into the fields and pick your own pumpkins from the pumpkin patch, which is loads more fun than simply buying one in a supermarket (and lots of kids enjoyed riding in the wheelbarrow on the way!).
The farm shop is packed with spooky decorations – we couldn't resist buying some to take home, including cute ghost decorations and a miniature skeleton who we're calling "Mr. Bones".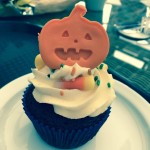 In the Cairnie cafe you can scoff delicious Hallowe'en themed cakes and biscuits – yum!
This weekend there are also special daytime and evening Hallowe'en events happening at Cairnie (see the picture for details). Are you brave enough to enter the torch light maze??
So if you haven't been to Cairnie before this is the weekend to go!
There are also lots more scary but fun Hallowe'en events happening around the East Neuk, St Andrews and North East Fife area including at Craigtoun Country Park, Kellie Castle and Hill of Tarvit. See our events page for full details.
Happy Hallowe'en!
By the East Neuk Blogger, October 2017
Rose Cottage is proving to be a haven of creativity this season! Recent guest, children's author and illustrator Kathryn Queen visited the East Neuk from another lovely part of the UK, the Lake District, with her husband and doggy. The three of them found the relaxing holiday they were looking for with lots of coastal walks, dolphin spotting, delicious food from local farm shops and chilling out in the Rose Cottage garden room. Kathryn described the cottage as "just perfect" and "the best cottage we have ever had the pleasure to holiday in and we have been in some top places"! Before she went home I took the opportunity to purchase a couple of her children's stories to add to the growing Rose Cottage kids book collection and she very kindly gave me two more books as a present for our daughter, Rosie. Thank you Kathryn!
Talented Kathryn writes and illustrates her charming children's books, inspired by the real-life adventures of Meg the Labrador in England and Australia. There are now four books in the popular series, including my favourite titles "Puppy Love at First Sight" and "Growing up in Cosy Corner" with a fifth one coming very soon.
Kathryn's website explains who Meg was and how she inspired her to write: "Meg was our first Labrador. She was a happy-go-lucky, bouncy, tail-wagging, loyal friend. From the day she was born she was everyone's sweetheart and through her eyes and actions we all knew what she was thinking and trying to say to us.
We all said 'the only thing Meg can't do is talk.'
After sharing Meg's life for 14 years her memory has inspired me to write a series of books about her life from puppyhood until she was an 'old lady.' My books have given Meg a chance to speak and tell us her own special story from a dog's eye view.
They are written as interesting true stories for children, rather than a formal training guide (with a little bit of imagination thrown in) to help children understand a dog's behaviour as they both grow up together." 
All the Meg books can be purchased from her website Megland Books. Check them out, especially if your little one is a dog lover who needs a little training on how to look after his or her four-legged friend!
It's now official: St Andrews is as popular a hang out for animals as it is for humans!
It used to be that St Andrews had a celebrity street cat, Hamish McHamish. He was king, strutting his furry stuff around the streets, with his own Facebook page, then book and even statue. Sadly Hamish is now in cat heaven and is missed by St Andrews visitors and locals alike. No feline could ever hope to replace his presence and elusive charm.
But wait a minute, is there a new celebrity animal couple in town: Mr and Mrs McDuck? Two mallard ducks have taken a shine to Market Street and here they are having a drink at The Keys pub on a Saturday night:
They also love to hang out outside The Subway and occasionally down the lane by Maisha Indian restaurant. Where are they from? Are they moving in or just passing through on their way to a nearby pond or loch? Did their romance blossom in St Andrews a la Wills and Kate? It is difficult to interpret from their lively quacking but they are a pretty cool couple so I hope they are here to stay!
Have you met Mr and Mrs McDuck yet?!
With just 3 weeks left of the Summer holidays many parents are on the lookout for exciting new activities to keep the kids occupied. If that is you then you're in luck because the Fife Coast and Countryside Trust has scoured the region to compile a handy checklist of fun, free outdoors activities to keep everyone entertained all holiday and help you discover more of Fife's stunning outdoor spaces from award-winning beaches to great cycle routes.
Activities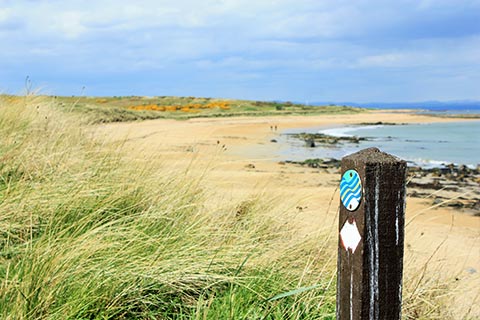 on the list include hunting for fossils (e.g. at Crail), searching rock pools, geocaching, photography and wildlife spotting from red squirrels to dolphins. See who in your family can tick off the most sights on their list!
As Valerie Telfer, Business Support Manager for Fife Coast and Countryside Trust, said Fife is "One of the most visited outdoor regions in Scotland" and "we're lucky to have fantastic facilities for people of all ages to enjoy".
Download the full Summer holiday checklist here and find lots more useful info about exploring Fife's great outdoors on the Trust's website.
As a welcome message this seems very apt for Rose Cottage at the moment as we have had some wonderful guests enjoying their holidays here recently! To mention just a few:
First we had an Edinburgh mum guest, who runs excellent birthing and baby massage classes (check out the Daisy Foundation), sharing photos with us of her own adorable little ones enjoying the cottage on their holiday – so lovely to see.
Speaking of little ones, we had a couple of guests who stayed at Rose Cottage last year for a bit of relaxation when Mrs was expecting. Then earlier this year they sent us the happy news about the birth of their beautiful little girl. I was absolutely delighted for them and also congratulate them on an excellent choice of middle name – Rose!
There were even gifts! Repeat short break guests from Edinburgh bought us the most beautiful and unusual plant this Spring as a very kind and thoughtful thank you for our hospitality. Then there was our lady golfer guest who came all the way from Portland, Oregon, USA. She knitted a hat for our little girl, while she and her husband were staying at Rose Cottage! It's such a cute hat that fits perfectly. So kind and sweet of our lovely guest to "yarnbomb" us as she called it.
In April we had a guest from the West coast of Scotland who is a popular and talented blogger (see www.lookingforthepostman.com) . He managed to find the time on his family holiday to pen the most wonderful blogpost about Rose Cottage which totally blew me away as well as excellent and very helpful blogposts about visiting some local sights (Crail for kids, St Andrews food, St Andrews sights for kids).
Meanwhile other guests were busy writing us some glowing reviews over on our Facebook page e.g. "now that we have found Rose Cottage that is where we will stay every time we get a chance – no point looking anywhere else".
And then, as if by magic (!), a little fairy door appeared at the foot of one of the trees in the woodland area at the back of the Rose Cottage garden. So it seems that we now have a little fairy guest, perhaps it followed us back from the Fairy Glen at Craigtoun Country Park? The Rose Cottage fairy needs a name though so all suggestions are welcome!
So I'd just like to say a big, warm thank you from me to all of our wonderful guests for their friendship and kindness – you make everything worthwhile! I can't wait to welcome more guests to Rose Cottage in the future and hope, as I always do, that they will fall in love with Rose Cottage and the East Neuk and St Andrews as much as I have.
Family holiday magic awaits in the East Neuk & St Andrews! With just a little forward planning family holidays in the East Neuk of Fife and St Andrews have always been truly magical. Now you don't even need to do that planning yourself – just look at my brand new "best bits" list of the top 10 activities for kids in the area. Happy days!
With this easy list you can make the most of your precious family holiday time, maximise the fun and minimise complaints from the wee ones. It's all in there from the best beaches, adventure playgrounds, tried and tested family-friendly restaurants, to favourite day trip destinations and much more – there's something for even the fussiest little cherub.
I'll be keeping it up to date as new things come along and all suggestions about things to add are most welcome.
Enjoy!
Copyright Sara Scott 2016
The evening of Wednesday 16th September 2015 will be a special one. Why? Well this is when the very last St Andrews Night Market of the year is taking place. I guess that means it's officially the end of the Summer – boo hoo!
The Night Market is a really fun food, drink and music Summer event at one of the best seasonal venues in this wonderful part of the Earth: the Steak Barn at Balgove Larder. A lot of work by organiser Jamie Craig-Gentles and co goes into making sure that no two Night Markets are the same by having different themes and different suppliers from all around bonnie Scotland so it is not just the usual suspects that you find at other local markets (though in Fife the usual suspects are also pretty amazing too!). Previous 2015 Night Market themes have been BBQ, golf and meeting talented local chefs. This is also a nice and family friendly event so if you have little ones it's no problem to bring them along and they will probably enjoy it too. The Night Market started out as an idea that Jamie had after living in Melbourne and enjoying the Vic Market every Wednesday evening – he thought it just seemed like a great way to enjoy food and drink midweek as well as shop!
The theme of the September Night Market is Autumn and beer. There will be a selection of four amazing local Scottish breweries (Alechemy Brewing, Eden Mill, Campervan Brewery & St Andrews Brewing Co) seasonal wines from a horse box (?!)  The Bijou Wine Co and locally sourced foods from Scotland – including Fresh Food Express, Mighty Mexican, Fresh r-evol-ution, Arbroath Quality Fish Teviotdale, Whisky Sauce Co., Raw Food – Good Food Good Feelings, Cochrane's Kitchen, Sri Spice Ltd, The Occasional Cake Company, Salt Pig Sea Salts, Poporopo, Meadowsweet Organics and of course the Balgove Larder Farm Shop and Cafe.
Not to forget, live music from the excellent Wire & Wool to get you dancing – they will be bringing the full band along so expect it to be lively!
Roz Hart Art will be painting faces for young and old and there will be some beautiful wooden objects from Object Company.

It all kicks off at 5pm and is on until 9pm so get yourself down there with an empty belly ready to experience great tastes and don't be late or you'll miss all the best stuff! It's a free event and parking is free too. As it's the last Night Market of the year Jamie wants it to go out with a bang. He also wants to welcome back the St Andrews University students who have been away all Summer. Check out the Night Market St Andrews Facebook page for all the latest.
Here are some more of my pictures from the Night Market in July (which was the one with the golf theme in honour of The Open 2015) to give you a flavour of what to expect. So long Night Market and can't wait to see you again in 2016!
We recently spent a wonderful two week Summer holiday at Rose Cottage – our first family Summer holiday with mini ENB (or the East Neuk Nipper as one of our friends calls her!). Sun, sea, sand, swimming, silliness, stuffing our faces – good times were had. So I thought I'd share 7 highlights from our family holiday of splendid sandy Summer days in the East Neuk and St Andrews.
Chilled-out country walks through the idyllic East Neuk countryside, with abundant wildflowers, pretty fields, sparkling seas and big dreamy skies brought back happy memories of my own summer family holidays as a child.
So no.1 on my Summer highlights list is to have a leisurely East Neuk country walk and bring home a posy of wild flowers.
With wildflowers but also great views over the East Neuk villages of Earlsferry and Elie and beyond across the Firth of Forth, plus a delightful encounter with some local seals, another highlight of our holiday was no. 2: walk the Fife Coastal Path from Earlsferry to Shell Bay. On this walk you can also enjoy seeing Elie Golf Course where long socks are mandatory (due to the long grass in the rough), the starter looks through a submarine periscope before giving you the all clear and blind shots are common – in fact at the 9th you have to ring a bell to tell the players behind you that you've left the green (read a review of this quirky course here)! By the golf course you walk along a nice quiet beach, which is where we spotted the seals. Then a steep climb up the cliff rewards you with the fabulous views, plus some interesting World War 2 structures and then the view over the other side of the cliff down to Shell Bay. Either continue on down to Shell Bay or head back to Earlsferry, perhaps doing as we did and grabbing a drink and tasty bite to eat in the 19th Hole, Earlsferry as a post-walk reward.
A little bit further along the East Neuk coast was highlight no.3 – lunch at the East Pier Smokehouse, St Monans. Sample fishy delights smoked on the premises such as my favourite hot smoked salmon in a lovely relaxed, light and airy place right on the pier in the quaint and quiet East Neuk village of St Monans. It's so close to the sea that you feel like you're on a boat. There's a nice family atmosphere and children are welcome. Don't miss the excellent cakes and coffee as well. At the weekends it is also open for more formal 3 course dinners, though you must book in advance.
Of course it wouldn't be a Summer holiday in the East Neuk if you didn't go to the beach so no. 4 on my list is beaches, particularly Kingsbarns and Elie beaches.
Another Summer highlight in Scotland is strawberries, which brings me to no.5 on my list – Strawberry hill, otherwise known as Allanhill Farm. Children are guaranteed to love all the outdoor Summer holiday fun on offer here, including giant straw bale to climb, fort, farm animals, tractors to sit in, swings and sandpit – all free. The strawberries themselves are incredibly delicious and there are lots of strawberry-themed foodie delights in the cute country farm shop and tearoom – don't miss the strawberry tarts if you have a sweet tooth. The views down the hill to St Andrews are also very special.
On the family holiday highlights for some of our recent guests and no.6 on my list is Sunday sundaes, slurped while strolling around sunny streets. Jannetta's ice cream emporium in St Andrews is all pretty and shiny after its recent refurb and open until 10pm, making it ideal for a takeaway-and-walk dessert after dining in one of St Andrews' many excellent restaurants. The hard part is deciding which flavour you want as there are so many to choose from – I personally couldn't resist the charms of the Nutella which was a chocolately, nutty, continental scoop of awesomeness. Quite different to Jannetta's is the Ice Cream Shop in Pittenweem – it's a proper traditional sweet shop, a piece of nostalgia for times gone by – and I highly recommend buying a cone of their Peaches 'n' Cream ice cream and walking around pretty Pittenweem with it. Yum! (Also when combined with a walk ice cream is calorie neutral surely?!)
Finally no.7 on my list is all about Summer adventures for the little ones at Craigtoun Country Park, St Andrews. Just outside St Andrews you'll find Craigtoun Country Park which has been much loved by families for over 50 years. Mini ENB loved having a picnic on the grass by the boating lake and taking a ride on the "Rio Grande Railway". Lots of families were enjoying taking a pedalo or rowing boat out round the lake, past elegant swans and a fairytale castle-like structure. For older children the adventure play park looked pretty cool and other attractions are the tractor ride, bouncy castle, putting green, crazy golf, glasshouses and even geocaching. Well worth a visit with the wee ones.
So there are my 7 highlights from a magical Summer family holiday in the East Neuk and St Andrews – already looking forward to doing it all again in Summer 2016!